Last updated on January 10th, 2020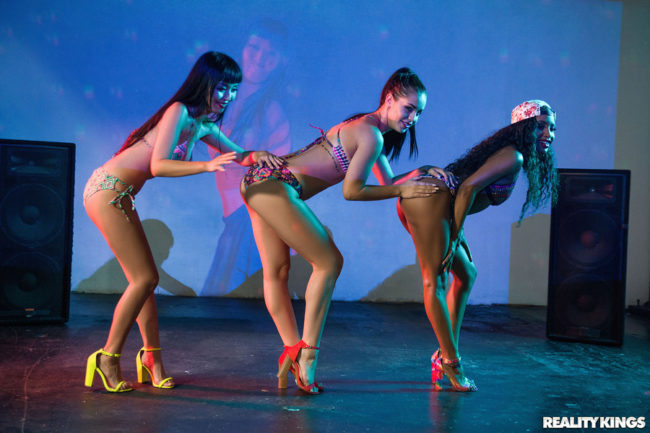 Listing the best swingers clubs in Toronto and around Ontario plus other ways to meet swapping couples interested in the hobby near you is a bit of a difficult thing to discuss for various reasons. The main one is that discretion is a big part of the lifestyle scene, most people and libertine clubs in Ontario like to keep this on the down low.
For instance let's say there is a couple who enjoy watching the wife get cuckolded, that is probably not something they want their friends, family, neighbors and co-workers to know about. You can see why finding out fresh and reliable info on the best swingers clubs in Toronto or other ways to meet kinky couples around Ontario and near you can be so difficult to track down.
That same discretion is also wanted by couples who enjoy having group sex be it a threesome or a massive orgy with hundreds of people partaking. Well, we are going to do our best to not only cover this topic at its current state, but also continue to update this page as often as we can.

There are plenty of other sites out there, but if you have visited them you probably have noticed half of the clubs they mentioned are no longer open. We aren't going to say we will be perfect at this, but we will put in the effort to keep our lists relevant and up to date.
After we tell you all about the best clubs for swingers around the area we will also talk about other ways to meet sexually adventurous partner swapping couples near you. That way you can throw your own private orgies, meet some of those cuckolding wives, or get your kicks however you desire.
Of course the easiest way to do this is by using online sites and groups to contact other Canadian swingers, and we have some great ways to tell you all about. But before we get into that we want to list the best clubs in the area and give a little break down on what they have to offer.
Best Clubs For Swingers In Toronto
Here is our list of best swingers clubs in Toronto and around Ontario:
Club M4 at 1989A Dundas St East in Mississauga
Nyx Lounge at 407 Speers Rd #4 in Oakville
O Zone at 36 Stoffel Dr in Etobicoke
Oasis Aqualounge at 231 Mutual St
X Club at 1625 Sismet Rd in Mississauga
If you wanted to cross the border and head south we have covered clubs for swingers in New York, Pennsylvania, Ohio and Michigan at those links. Now we want to share a little bit about each of these individually. As we mentioned before discretion is very important to clubs and also couples so we aren't going to share any more than these places are already sharing themselves.
We have put links up to all of their own websites and social media, we definitely recommend you follow those links before you visit. You want to make sure you are dressed in the proper way for whatever kinky sexy party they are throwing on the night you plan to attend.
Plus these Toronto swingers club may be closed on a particular night, or have some sort of special event going on that you are not aware of.
Club M4
Over in Mississauga you can find Club M4 which just moved to a new and fresh location with over 10,000 square feet. They have multiple BDSM play rooms, glory holes, and hold many different events like MILF nights, cuckolding wife nights, and if you want to have sex with transgenders in Toronto visit on Tuesdays for their T-girl sex parties.
The M4 libertine club also has special BBW parties and bi-nights on Wednesday so definitely check out their events list before you show up, or just have fun with whatever type of orgy you walk into. Prices vary by day, time, and event but couples usually pay $20-$40 for entry while men pay between $40-$80.
Generally they are open in the day from 3pm to 7pm then they open again from 9pm to 2 or 3am. On the 2nd and 4th Saturday of each month they throw their young swingers society events where couples and singles under 40 get a discount and have their own private play rooms.
Plus every day they have special couples only play rooms. Club M4 is sometimes referred to as Menage Au Quatre, you can contact them by calling 647-430-7975 or emailing [email protected]
Nyx Lounge
Nyx Lounge libertine club can be found in Oakville and it is one of the more elegant and upscale clubs on the list. They have an annual membership fee of $20 for women, $60 for couples and $100 for single men.
Entry is generally ladies free, couple $20 and men $40 but that can vary a bit depending on the event. Speaking of events they like to creative with group sex parties like:
Arabian Bell Dance
Sexy Schoolgirl Nights
Rockstars & Pornstars
Pajama Parties
Plus more, this Toronto libertine club is open from 9pm on Friday and Saturday nights until late into the evening but there is no entry after 2am. You can contact them by emailing [email protected] or calling 289-644-4096 plus you can follow Nyx Lounge on Facebook.
O Zone
O Zone is a cool sex club in Etobicoke with a big dance floor, stripper poles, cages, and many play rooms spread across 10,000 square feet. Single men must apply first and are only allowed on Friday nights if they are accepted and their entrance fee is $60.
Couples pay $40 on Friday nights and $60 on Saturdays, if you arrive before 10pm you might get a small discount. Single girls are charged $10 for entry. They also have their monthly super parties where single men are not allowed and on those nights it is $30 for ladies and $60 for couples.
They love to throw creative events like Band Camp parties and nude picnics. You can follow them on Facebook or Twitter, plus you can email Toronto's O Zone at [email protected] or call them at 416-246-9663.
Oasis Aqualounge
Oasis Aqualounge is a combination of swingers club and naturist pool in Toronto that offers nude yoga classes on Wednesdays at 8pm. They also have daily yoga classes, but they aren't nude.
This libertine club has more of a spa and FKK feel to it than a wild sex party at a nightclub that is for sure. But make no mistake, some wild orgies happen across their 9,000 square feet which includes a sybian, high tech sex dolls and plenty of toys and equipment for couples to play together.
Prices vary depending on day and event but couples generally pay $50-$80, girls and transgenders get in free or pay a very small entry fee for certain events. Single men are only allowed on Monday during the day, all hours on Tuesday, Wednesday and Sunday and the price for single men is $80.
This Ontario libertine sauna club is open daily from 11am to 3am, you can follow Oasis Aqualounge on Facebook and Twitter or contact Oasis Aqualounge here.
X Club
Last but not least, X Club is a great libertine club for Ontario swingers in Mississauga that has been open since 2006. While the last one was more of a libertine sauna this is more like a sexy nightclub with private play areas for couples to have a little 2 on 2 fun or for bigger orgies to break out.
They are open Friday and Saturday from 9pm to 3am and some Thursdays or Sundays. Couples pay $20 on Friday, $40 on Saturday, or $10 if they are open on other nights.
Girls are generally free but do pay $10 on Saturdays, while single men are only allowed on Friday nights and must be 25 or older to attend. X Club has some creative parties like Freaky Fridays for women who want single men.
This can be a good way to find gang bangs in Toronto, or cuckolding couples. They also have foot fetish nights for those who are into podophilia. Contact the X Club by calling 647-245-4545 or emailing [email protected] plus they are active on Instagram and Twitter.
Meet Swinging Couples In Ontario Online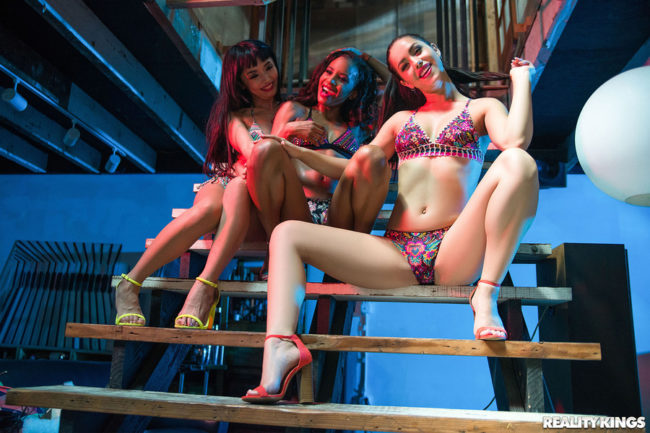 Hopefully you learned something so far, but we also know that there are plenty of swinging couples in Toronto and all over Ontario who aren't really interested in going to any group sex clubs. Big orgies and lots of people watching you are certainly not for everyone.
Luckily there is another way and that is to meet swingers near you online. This may mean other swinging couples, or you contacting whatever amount of single men and single women you desire to sleep with and setting up something a little more private on your own.
You may want to invite other Ontario swinging couples to your home, or throw some group sex parties at hotels in the area. Or maybe you are a single guy who just wants to work his way in be it to an orgy, a BDSM party, or just tracking down some cuckolding wives in Toronto online.
How can you do that? Have you ever heard of Adult Friend Finder? We assume you have seen the links around the internet, they like to say they are not your typical dating site and that is definitely true!
It definitely isn't about dating, it is all about hooking up and finding other people near you who want to explore sexually. They have a sub domain set up specifically for swingers called 99 Flavors which might just be exactly what you are looking for.
There is no better way to meet swingers in Toronto online be it partner swapping couples, singles, a cuckolding wife or whatever suits your fancy. You not only get access to the swingers on 99 Flavors but you get access to the full Adult Friend Finder network which has tens of millions of users worldwide.
In a large city like this one there will be plenty of options on it and it will really take your group sex game to the next level. For the single men out there that don't want to get rejected at the door these sites are definitely the best way for you to find some kinky women in Ontario to bring with you next time you want to go.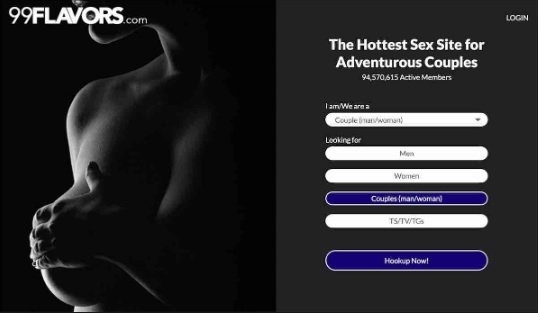 Final Thoughts & Tips
Before we go we wanted to share a quick word of advice for any newbies out there, or anyone who has tried visiting swingers clubs in the past with mixed results. There are some pretty easy rules to follow that will definitely help you and everyone involved have a better time.
Our first recommendation is to check and see if you are supposed to RSVP before you go to the club. Next take a shower and put on some decent clothes. Often times these lifestyle clubs will have theme nights, try to dress according to the theme when possible. You don't want to be the guy who isn't ready for BDSM night now do you? They might really punish you for that!
Once inside the Ontario swingers club don't be 'that guy' and many of you already know who we are talking about. When it comes to swingers clubs 'that guy' can come in many forms, but they are all pretty similar.
The guy who stands in the corner creeping in the shadows not talking to anyone else. The guy who watches other couples and doesn't get the hint that they want him to leave them alone.
The guy who walks up and tries to jump into other couples playing and attempts to force his way in even when it is clear he isn't welcome. Swingers clubs in Toronto are not looking for single men who are anti-social and who are just visiting because they think it is a good place to bust a quick nut.
Mingle, be sociable, and make sure you are wanted before you start to get involved. You should also read the club rules just to make sure what is and isn't allowed so that you don't get kicked out for doing something you didn't realize you weren't supposed to do.
We will try to keep this page as up to date as we can, if you need to let us know of any club closures or new clubs around email us at clubs4swingers at gmail.com. If the whole group sex club scene doesn't sound right at this point you might have more fun setting up your own private orgies by using 99 Flavors to find partner swapping couples in Ontario, or just meet some kinky people near you on Adult Friend Finder for whatever type of behind closed doors fun you are into.
Now you know all about the best swingers clubs in Toronto and how to meet kinky couples near you, we hope you have a great time!