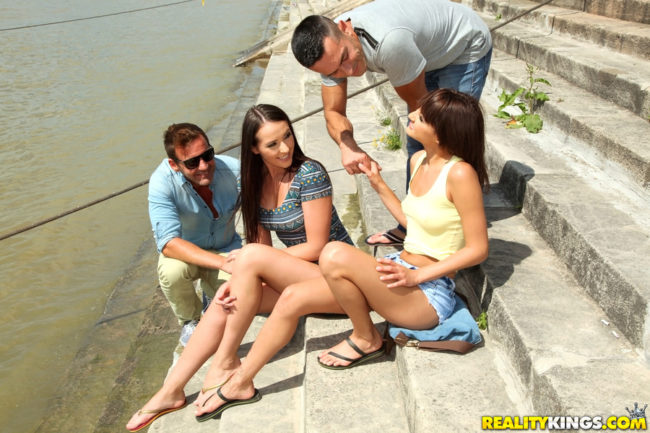 In this post we are going to talk about the best swingers clubs in Portugal and other ways to meet couples for adult fun around the country. There are a lot of people out there who want to know about the libertine lifestyle, but it isn't an easy thing to find info for online.
The swingers clubs near you value their discretion, as they should, but it is helpful for people to know what they are walking into before they just knock on the door at an orgy. We are going to start out by listing the best swingers clubs in Portugal and then giving a little write up on each. Many of the top libertine clubs are in Lisbon, but there are others in Porto and around the country as well.

After that we will talk about the best ways to meet local partner swapping couples online. This way you might be able to find a wife to cuckold in Lisbon, other people who are interested in BDSM group sex in Porto, or whatever it might be that helps you get your rocks off.
If you are new to this echangiste scene we will be sharing some standard rules that can help make your first attempts go a little smoother.
Best Swingers Clubs In Portugal
Some of you may just want the names and locations right now, so here is our list of best swingers clubs in Portugal:
Fun 4 You
Heaven Can Wait – Private Parties in Lisbon
Xclube in Lisbon
SaunApolo 56 at Luciano Cordeiro Street, 56 A in Lisbon
Intimidades in Porto
Golden Key Club in Porto
Mistik Sauna Club at R. Câmara Pestana 445 in Porto
Tass Bem Swing at R. Dr.Ribeiro Magalhães 212 in Vila Nova de Gaia
Sensualiladades Private Club in Tocha
Lyberty Dreams in Valenca
If that above list is not enough for you we have also covered partner swapping clubs in Spain and France before. It is highly recommended that you visit the sites home page or social media before you go just to make sure they are open and find out what type of wild sex party in your area is happening when you hope to attend.
Many clubs would like for you to RSVP before you go, and for any single men reading this you need to find out if you are welcome or not before you just show up at the door. Now we will quickly talk about each club, or at least the ones we have some info on.
Best Swingers Clubs In Lisbon
Fun 4 You
Fun 4 You libertine club has been open since 2015 and can hold up to 300 people at their group sex parties. They throw all sorts of orgies like gang bangs, glow parties, bikini pool parties and more.
They are open from 11pm to 5am on Friday and Saturday nights. Follow Lisbon's Fun 4 You on Facebook, email them at [email protected] or call them at +351 963 331 932.
Heaven Can Wait
Heaven Can Wait has been throwing private adult parties for many years. They have different themes like cougar nights, echangiste nights, and they even hold divorce parties.
There is a nice spa, a big whirlpool, and some glory holes on site. This Portugal libertine club is open on Wednesday from 11pm to 4am, Friday from 11pm til 5am, and they open at the same time on Saturday but close at 6am.
Give Heaven Can Wait a call at +351961280982 if you need to know more.
XClube
Another of the best clubs for local swingers in Lisbon is XClube where they throw 2 or 3 echangiste sex parties a month. They have themes like glow parties, panties down nights, and wild sex in the jungle.
They have recently relocated and upgraded to a new location very close to the international airport. Prices may vary by night or event but expect to pay around 80 euros to enter, roughly half of which is consumable at the bar.
You can follow XClube on Facebook to learn about any upcoming orgies they have planned, or if you need to contact them their phone number is +351 216 065 284 and their email is [email protected].
SaunApolo 56
We struggle with whether to put this on the list or not because it is a pretty popular gay sauna. We always suggest you check out any Portugal swingers clubs website before you attend, but definitely do so for SaunApolo 56.
If you just show up randomly you might be walking into a gay orgy in Lisbon. Maybe that is fine for you, but maybe it isn't. Weekends and other female and bi sex parties might be more your style.
This libertine club does have numerous glory holes and dark rooms plus a XXX porn cinema. SaunApolo 56 is open daily from 2pm to 4am. Their phone number is +351 926 136 808. For social media they use both Facebook and Twitter.
Porto Libertine Clubs
Intimidades
There is a chance that this club has closed, they have no upcoming events listed and have deleted their social media. We are going to keep this info up until we can confirm, for now we highly suggest you contact them before you take the time to come over and if you can't get in touch probably choose another place for your next orgy.
You can find Intimidades swingers club in Porto near exit 8 of hiway A41. This is a couples only libertine club that is open almost every Friday and Saturday night from 11pm to 6am, plus some random Sundays or weekdays.
There is a lounge, active dance floor, and 6 themed rooms where Porto swinging couples can have a great time playing together. Give them a call at +351 913 862 239 or send Intimidades an email at [email protected].
Golden Key Club
Golden Key Club usually throws one or two echangiste parties a week. This can be a great place to try and have sex with Portugal transgenders as they have tranny nights, female bi nights, foam parties and all sorts of other kinky sex parties.
Golden Key Club updates their events on Facebook and swingers in your area you can make a reservation here [email protected]/pt or use this number to give them a call if needed +351 935 094 100.
Mistik Sauna Club
As you can tell by the name this local libertine club has more of a sexy couples sauna and spa feel to it than a nightclub vibe. Mistik Sauna Club is open Monday through Thursday from 11am to 2am, Friday and Saturday they close at 3am, and on Sundays they are open from 3pm to 2am.
Partner swapping couples must pay 15 euro to enter, while single men are 25 and women are 5. On top of the Jacuzzi and Turkish Bath they also have a nice XXX porn cinema room. You can follow Mistik Sauna Club on Facebook, Instagram or Twitter, or send them an email here [email protected].
Tass Bem Swing
Our last Porto swingers club to discuss is Tass Bem Swing. We are listing them last because we haven't visited for a while and we suggest you give them a call at +351 910 347 677 before you head over because they have not been updating online recently and both their website and Twitter are down.
Their opening hours should be Friday and Saturday from 10pm to 6am if they are still open, and if anyone who knows whether Tass Bem Swing is still open or not could let us know in the comments that would really help all future readers, thanks.
More Libertine Clubs
Sensualiladades Private Club
Sensualiladades Private Lifestyle Club in Tocha can be contacted by emailing [email protected]  or calling +351 918 607 646. Sensualiladades can also found on Facebook. This group sex club near you is very private so we are going to respect their wishes.
Lyberty Dreams
Lyberty Dreams is a fun club for echangiste couples to visit in Valenca that is open on Friday and Saturday nights from 11pm to 6am, plus Sundays from 5 to 9pm. The prices vary by night, on Friday couples pay 25 euro, men pay 40 and girls pay 10. Saturdays it is 35 for couples, 40 for men and 10 for girls while Sundays couples only pay 15, men 20, and girls are 10 again.
You can follow Lyberty Dreams on Twitter or give them a call at +34 666 136 613 if needed.
Meeting Swinging Couples Near You Online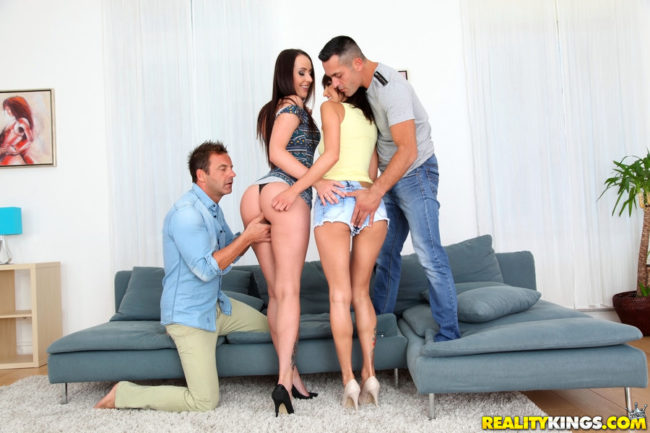 Not everyone who is interested in swinging wants to do it in a libertine club with lots of people around. Some of you out there who are searching for swingers in Portugal are looking for couples for smaller private  sex parties, a hot wife to cuckold, or just someone kinky to dip your toe into the waters with.
Where can you find all of the above and so much more? Well our favorite site is 99 Flavors, if you haven't heard of it you probably know about Adult Friend Finder at least, well it is basically the same thing but it is their main site to help meet local swingers near you online.
It is loaded with partner swapping couples who want to have sex with other lifestyle couples, cuckolds, people who enjoy BDSM, having group sex and all sorts of fun stuff like that. Plus if you sign up for 99 Flavors you get full access to the entire Adult Friend Finder network so you can meet all kinds of kinky people.
Maybe you want to host your own private events for swingers in Portugal, or be the third wheel with an adventurous cuckolding couple. Basically if you want to meet people for sexual reasons and not for serious dating the AFF network is where it's at, and it has been for over 15 years.
Oh ya, and many echangiste clubs will not allow single men to attend, if you need a date to bring with you who is down for anything there is no better place to look that is for sure. Of course there will be more women and couples in Lisbon and Porto than elsewhere, but this adult site is so popular around Europe you shouldn't have any problem finding couples or people for sex near you.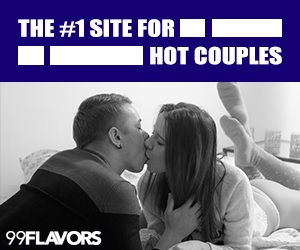 Closing Thoughts
We know many of you reading this are not experienced with the lifestyle so we want to quickly list some valuable things for you to know and consider before you visit any swingers clubs in your area:
Visit the clubs website before you go
Make sure they are open when you wish to attend
For single men, make sure they are allowed when you want to attend
RSVP if necessary
Find out if there is any sort of theme for the time you will go
Shower and dress for the event or dress sexy
Be part of the group, not hiding in the shadows
No means no
Respect others wishes
Let's be real here, when we are listing rules they are mostly for the single guys who sometimes cause problems. Nobody is going to care if a woman shows up on her own and dishes out blowjobs like they are name tags at a reunion.
Guys, just don't be an asshole, it really is as simple as that. Don't force your dick anywhere that it doesn't belong, and make sure you are wanted before you hop in. If you just creep around the shadows before rushing into a situation where you weren't invited you will probably get kicked out eventually.
Being part of an orgy in Lisbon, Porto or anywhere means more than just taking any opportunity to get yours that you can get. We will try to keep this page as up to date as we can, if you need to let us know of any club closures or new lifestyle clubs around email us at clubs4swingers at gmail.com.
That is all the info we have on the subject, remember to check out 99 Flavors and Adult Friend Finder whenever you feel like having some fun but aren't up for going all the way to one of the best swingers clubs in Portugal.